A server is an individual but identical version of Little Space Heroes designed to allow thousands of players to play Little Space Heroes without any technical problems caused by a surplus of players.
Similar to how
servers
on another popular internet game,
Club Penguin
, are named after things related to the cold, future Little Space Heroes servers will be named after things related to space. For example, Club Penguin servers has Iceberg, Alaska, Frostbite, while Little Space Heroes has Crystal Palace, Milky Waves, The Piano Cat (Reference to Keyboard Cat), etc.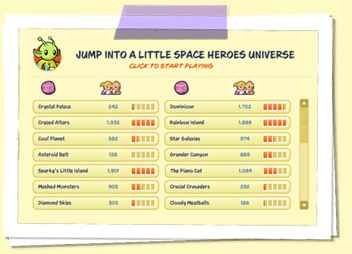 Ad blocker interference detected!
Wikia is a free-to-use site that makes money from advertising. We have a modified experience for viewers using ad blockers

Wikia is not accessible if you've made further modifications. Remove the custom ad blocker rule(s) and the page will load as expected.