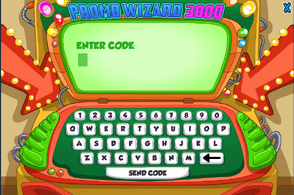 Promo Codes are special codes in Little Space Heroes that allow the user who entered a code to unlock special rewards. They can be entered in the Promo Wizard 3000, which is a machine located in the Heroes Academy foyer. It was invented as a computer by
Cphakkerz
but was later said to be the Promo Wizard 3000.
they still work :D
Edit
LOL
LOL
LOL
LOL
LOL
LOL
HEZUP99
EXPLORE
MINICLIP99home
bigpondgame
poptropica101
giant lover
Sorry but little space heroes is out of date
Also the inappropriate words have been fixed. Sorry about the vandalism from an anonymous user.Edit
Ad blocker interference detected!
Wikia is a free-to-use site that makes money from advertising. We have a modified experience for viewers using ad blockers

Wikia is not accessible if you've made further modifications. Remove the custom ad blocker rule(s) and the page will load as expected.